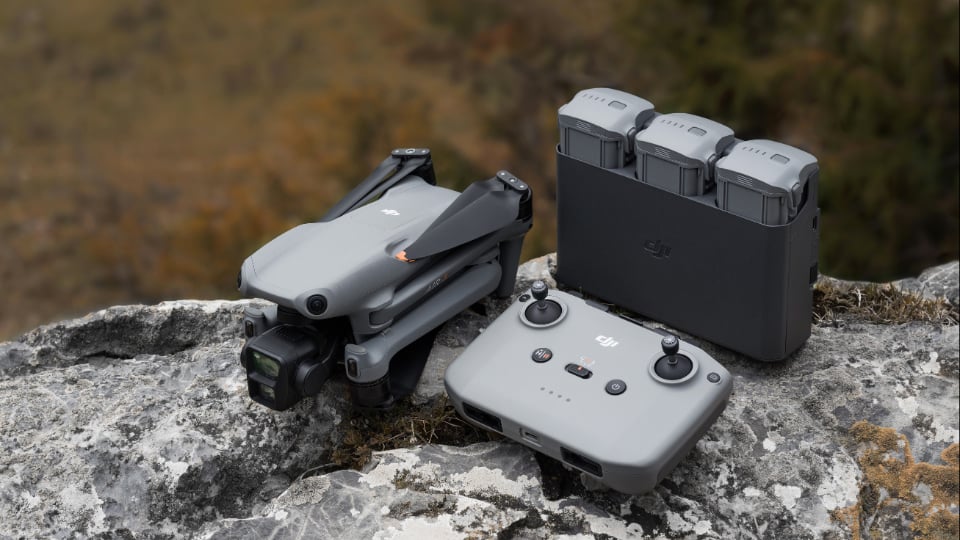 Elevate Your Aerial Content Creation with the DJI Air 3 Drone - A Cinematic Marvel for All Skill Levels
Introduction
Are you a filmmaker, content creator, or drone enthusiast looking to take your aerial videography and photography to new heights? Look no further than the recently released DJI Air 3 Drone - the latest addition to the Air series that promises to revolutionize your filmmaking experience. Packed with cutting-edge technology and advanced features, the DJI Air 3 Drone is designed to enhance your creativity and deliver stunning results. In this article, we'll explore the impressive features of the Air 3 and how it can elevate your filmmaking endeavors.
Dual Cameras for Ultimate Versatility
One of the standout features of the DJI Air 3 is its dual camera system. For the first time in the Air series, this drone boasts both wide-angle and 3x telephoto capabilities. Equipped with 1/1.3" CMOS sensors, the cameras capture 48MP stills and videos at various resolutions, including maximum 4K/100 or 4K/60 with HDR, and 2.7K in a vertical aspect ratio. This unique vertical option is perfect for influencers seeking to create ready-made clips for instant sharing on social media. Additionally, two color modes, 10-bit D-Log M and 10-bit HLG, provide flexibility in post-processing, preserving highlights and dynamic range without the need for extensive color grading.
Waypoint Flight Routing for Effortless Repeatability
The DJI Air 3 takes aerial videography to the next level with the inclusion of Waypoint, a flight routing feature that enables you to plan, save, and repeat routes and camera movements. This feature, integrated with the Hyperlapse mode, is perfect for capturing captivating timelapse videos with ease. Whether you're a beginner or an experienced pilot, Waypoint simplifies the process of achieving complex shots, allowing you to focus on your creative vision.
Flight Modes for Cinematic Filmmaking
DJI's assortment of flight modes takes your filmmaking to cinematic heights. FocusTrack, QuickShots, MasterShots, and Hyperlapse offer pre-programmed flight maneuvers that allow users of all skill levels to capture professional-grade footage effortlessly. These modes, combined with the Air 3's dual camera system, help you create captivating and cinematic sequences that will amaze your audience.
Fly More Combo for Maximum Convenience
To cater to diverse needs, the DJI Air 3 is available in standard and Fly More Combo configurations. The Fly More Combo includes essential accessories like extra batteries, propellers, a charging hub, and a convenient shoulder bag. For those seeking an upgraded experience, the Fly More Combo with RC 2 features a built-in 5.5" display, taking your piloting and content monitoring to new heights.
Safety First with Advanced Obstacle Avoidance
Safety remains paramount in DJI's Air series, and the Air 3 is no exception. Equipped with an omnidirectional obstacle avoidance system featuring the upgraded APAS 5.0 technology, the drone can navigate smoothly around detected obstacles. Additionally, the Smart RTH feature automatically brings the drone back home when needed, providing peace of mind during your aerial filmmaking adventures.
Conclusion
In conclusion, the DJI Air 3 Drone is a game-changer for aerial content creation. With its dual camera system, Waypoint flight routing, and cinematic flight modes, this drone offers a plethora of creative possibilities for filmmakers and content creators of all skill levels. Safety features like advanced obstacle avoidance and Smart RTH further enhance the user experience. Whether you're an aspiring influencer, a seasoned filmmaker, or an enthusiast looking to take stunning aerial shots, the DJI Air 3 Drone is a must-have tool in your filmmaking equipment arsenal. Elevate your content to new heights with the DJI Air 3 Drone - get yours today from our Digi Tech Filmmaking Equipment Store!