Zhiyun WEEBILL LAB Camera Stabilizer Creator Package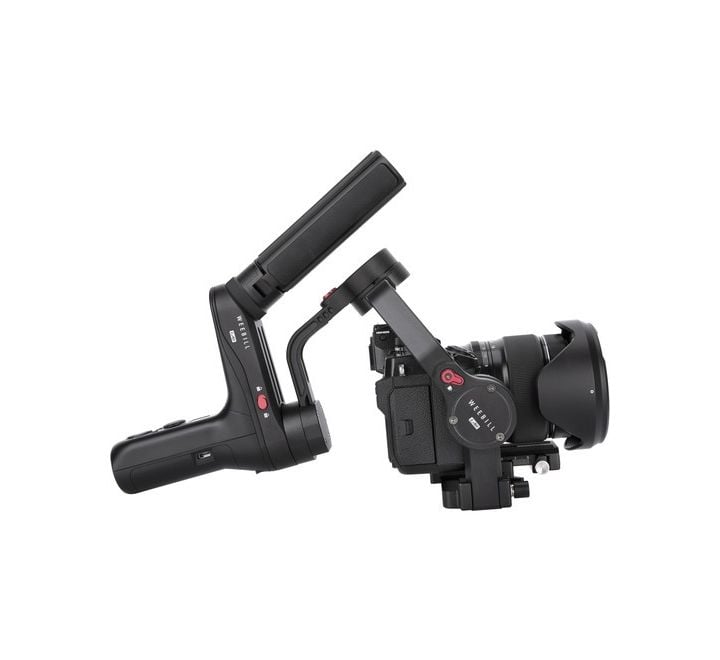 AED 1,895.25
AED 1,805.00
The 
Zhiyun-Tech WEEBILL LAB Creator Package

 includes the WEEBILL LAB gimbal and dedicated accessories that allow for an optimal workflow with the gimbal. The WEEBILL LAB supports up to 6.6 lb and features an innovative design that supports a mini tripod on top and bottom. In this way it provides an additional point of stability and an easy way to switch to underslung mode.

In addition to the accessories that come standard with the WEEBILL LAB, such as a mini tripod, the Master Package also includes a mini monopod, zoom/focus servo, two quick setup adapters, a phone holder, and a multifunctional camera belt in size large.

The monopod is designed to secure to a quick release receptacle on the camera belt and allow for more stable jib-style shots, with the weight of the gimbal taken off your hands and supported by the belt. Even without the belt the monopod can be used as a comfortable extension.

The zoom/focus motor is the Max version motor, which has enough torque to control zoom (whereas the Lite version is only strong enough for focus control). The WEEBILL LAB supports a single motor, and this one can be used interchangeably between the focus and zoom rings.

The Quick Setup Adapters let you attach the mini tripod and monopod to the gimbal by quick release functionality, instead of having to screw them in each time. And the phone holder will hold your smartphone on the side of the gimbal for monitoring. It supports up to 6.3" phones and can be articulated forward and backward as well as folded up when not in use.

Please see a full description of each packaged item below.
WEEBILL LAB Handheld Stabilizer for Mirrorless Cameras

The 

Zhiyun WEEBILL LAB Handheld Stabilizer for Mirrorless Cameras

 supports cameras weighing up to 6.6 pounds. It features a removable handheld tripod which can be mounted on the battery bin as a grip providing additional functionality, as opposed to crowding all the controls on the primary handgrip. The gimbal has a nominal runtime of ten hours and requires two 18650 batteries. It is built using aviation-grade motors. The WEEBILL LAB allows you to connect and control select cameras via an included cable, and supports wireless transmission of the camera's video via Wi-Fi. Control over the gimbal and camera is by the ViaTouch Control System.

The gimbal features pan follow, full follow, locking mode, PhoneGo mode, Vortex mode, and POV mode. An included lens support is useful when working with long lenses and an external follow focus motor (not included) for pulling focus on manual lenses. A downloadable app allows you to fine tune and control the gimbal wirelessly. The included removable tripod holds the gimbal upright while balancing and folds to become an extension to the main handle. For compatible list of cameras and lenses see the "Compatible List" below the list of what's in the box.

The WEEBILL LAB is a configurable gimbal platform that works well when held in either standard or underslung position

It features both Arca-Swiss and Manfrotto compatible quick release plates

its crafted latch design simplifies both balancing and setup

The wireless image transmission system is compatible with mobile devices running iOS or Android

The ViaTouch Control System enables using your phone screen to make gimbal movements and adjust camera settings, all while framing the shot

Motion sensor control allows you to control the gimbal by simply moving your mobile device

Time-lapse options include long exposure, panorama, and tracking time-lapse

The ZY Play app is available for iOS, with the Android version slated for release before December 1, 2018

Default Wi-Fi Password

12345678

Compatible Cameras for Limited Electronic Control

Sony: a9, a7 III, a7R III, a7R II, a7SII, a6500, a6300, a6000
Panasonic: GH5s, GH5

For updated compatibility see the manufacturer's website.

TransMount Mini Monopod

The Zhiyun-Tech TransMount Mini Monopod is designed to work with the optional TransMount Multifunctional Camera Belt to support handheld gimbals. The Camera Belt features a quick release socket that the Mini Monopod secures into. A quick release anchor point included with the Camera Belt screws into the bottom of the monopod and allows the monopod to pop into and out of the belt's socket, which has two spring-loaded quick release pins.

Together, the monopod and belt take the weight of the gimbal off your hands and allow for comfortable jib-style shots. They also allow for easier control of the focus wheel offered on gimbals such as the Zhiyun-Tech WEEBILL LAB and CRANE 3 LAB.

The Mini Monopod also works like any standard monopod. It telescopes out from 11 to 25.5" and includes a removable rubber foot for setting it down on the ground. It has a comfortable sponge grip and includes a wrist strap that makes everything feel more secure in your hands. A supplied 1/4"-20 to 3/8"-16 screw adapter installs at the top of the monopod to provide you with either type of mounting point so you can mount gimbals, fluid heads, and other gear.

Key Features

Designed to work with the optional TransMount Multifunctional Camera Belt to support handheld gimbals
11-25.5" length
Sponge grip
Wrist strap
1/4"-20 to 3/8"-16 screw mounting adapter
Removable rubber foot

TransMount Max Servo Zoom/Focus Controller for Crane 3-Lab & WEEBILL LAB

The Zhiyun-Tech TransMount Max Servo Zoom/Focus Controller can be used interchangeably for zoom and focus control on the Crane 3-Lab and WEEBILL LAB gimbals. It has a powerful-enough motor to control zoom, whereas the lighter-weight TransMount Lite is designed for focus control only.

The Crane 3-Lab supports up to two motors at the same time, and it's recommended to use the TransMount Max and TransMount Lite together if requiring both zoom and focus control on the Crane. The WEEBILL, however, supports only one motor, so the TransMount Max is recommended as the only solution because it can be used interchangeably for both functions.

Featuring a toolless design, the TransMount Max attaches on the gimbal using just the included thumbscrews. It can be controlled via the gimbal handwheel or the companion smartphone app. Secure it to the supplied support bracket and mounting rod using two thumbscrews, and attach this assembly to the bottom of the gimbal's baseplate with the third thumbscrew. Then connect the servo to the gimbal with the provided USB cable, and connect the camera to the gimbal with one of the camera control cables the gimbal comes with. The USB cable connection provides zero-latency signal transmission.

Key Features

Can be used interchangeably for zoom and focus control
Recommended as the zoom solution for the Crane 3-Lab, which supports two motors at the same time, and as the sole solution for the WEEBILL LAB, which supports only one motor
Toolless design—assembles with the included support bracket and mounting rod and attaches to the bottom of the gimbal's baseplate using supplied thumbscrews
Connects to the gimbal via a USB cable and controls focus with zero latency

TransMount Quick Setup Adapter for Crane 3-Lab & WEEBILL LAB

The TransMount Quick Setup Adapter from Zhiyun-Tech is a quick release adapter for instantly attaching mini tripods and monopods to the Crane 3-Lab or WEEBILL LAB gimbal. It consists of two parts—one screws onto the tripod/monopod and the other to the gimbal's tripod mount, and the two simply click into each other. To detach them, you just need to pull back on a collar. The adapter prevents having to screw and unscrew a tripod/monopod each time. Featuring a 1/4"-20 male/female design, the adapter can also be used independent of the gimbal for various accessories, such as monitors.

Two units are recommended for the WEEBILL LAB because the WEEBILL offers two locations for attaching a mini tripod—one on top and one on the bottom. With an adapter attached at each of the two locations, your mini tripod can easily be moved between one and the other to switch between standard and underslung modes.

The Quick Setup Adapter features a robust aluminum construction.

Key Features

Quick release adapter for attaching mini tripods and monopods to the Crane 3-Lab or WEEBILL LAB gimbal
Consists of two parts—one secures to the tripod/monopod and the other to the gimbal; the two click into each other
Detachable by pulling back on a collar
Can also be used separately from the gimbal with various other 1/4"-20 accessories
Aluminum construction

TransMount Phone Holder with Crown Gear for Crane 3-Lab & WEEBILL LAB

The TransMount Phone Holder with Crown Gear from Zhiyun-Tech is compatible with the Crane 3-Lab and WEEBILL LAB. It secures on the side of the gimbal and is adjustable to hold phones up to 6.3" wide when the phone is held in landscape orientation. It also articulates forward/backward and can be folded up when not in use.

TransMount Multifunctional Camera Belt (Large)

Designed to support the TransMount Mini and Telescopic monopods, the large-sized Zhiyun-Tech TransMount Multifunctional Camera Belt provides a point of stability for anything you mount on the monopod, including a gimbal. When the belt is used with a monopod and gimbal such as the WEEBILL LAB, the additional point of balance allows for substantially more stable and comfortable jib-type shots and lets you control the gimbal's focus wheel more easily. The belt also has military-grade strips along its length for hanging accessories such as lens bags and the TransMount Baseplate.

For securing the monopod, the belt features a receptacle suspended on a hanging strap. The receptacle has a removable quick release 1/4"-20 mounting platform that screws into the bottom of the monopod and then pops in and out of the receptacle by quick release functionality. Two registration pins on the receptacle lock into a groove on the 1/4"-20 mounting platform to lock the two together.

Key Features

Designed to support the Zhiyun-Tech TransMount Mini and Telescopic monopods via a receptacle with a quick release mounting platform (dual registration pins)
Provides an additional point of stability for jib-type shots and much more
Allows the user to more easily control the focus wheel of gimbals such as the Crane 3-Lab or WEEBILL LAB
Military grade strips for hanging lens bags and other accessories
get real warranty on Zhiyun WEEBILL LAB Camera Stabilizer Creator Package at Digi Tech Trading LLC
It's always easy to shop for Dslr cameras stabilizer at Digi Tech Trading LLC because you can browse by best sellers, brand, price range, customer rating, or special offers. And you can take advantage of free shipping within UAE. Digi Tech Trading LLC Zhiyun WEEBILL LAB Camera Stabilizer Creator Package - your trusted source of filmmaking equipments
More Information

| | |
| --- | --- |
| ean13 | 6970194085524 |
| Manufacturer | ZHIYUN |
WEEBILL LAB Handheld Stabilizer for Mirrorless Cameras
Bundle Items
WEEBILL LAB Handheld Stabilizer for Mirrorless Cameras
Micro-USB to USB Type-C Converter
TransMount Mini Monopod
1/4"-20 to 3/8"-16 Threaded Screw Mounting Adapter
TransMount Max Servo Zoom/Focus Controller for Crane 3-Lab & WEEBILL LAB
2 x TransMount Quick Setup Adapter for Crane 3-Lab & WEEBILL LAB
TransMount Phone Holder with Crown Gear for Crane 3-Lab & WEEBILL LAB
TransMount Multifunctional Camera Belt (Large)
1/4"-20 Mounting Platform