Zhiyun-Tech Crane-M 3-Axis Handheld Gimbal Stabilizer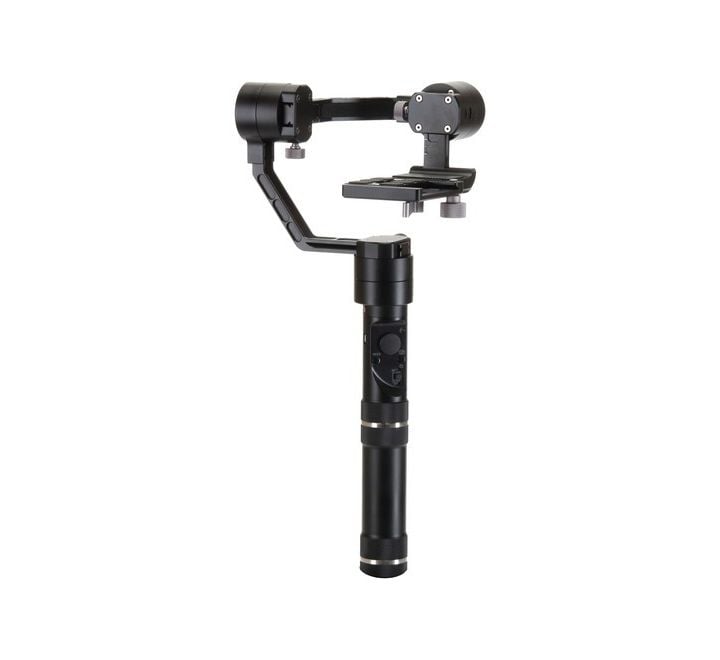 AED 1,993.95
AED 1,899.00
For Mirrorless, Action Cams, and Phones
Supports Devices up to 1.4 lb
360° Rotation Along All Three Axes
Large 4-Way Joystick
Lock, Yaw, Pitch/Yaw, and Inverted Modes
32-Bit Triple-MCUs at 4 kHz... Read More
The Zhiyun-Tech Crane-M is a smaller, lighter version of the original Crane. It is designed for small mirrorless cameras, smartphones, and action cameras weighing between 4.4 oz and 1.4 lb. At the same time, it has the advanced features of the original as well as improvements over it. (Separately sold adapters from Zhiyun Tech are required for mounting phones and action cams.)
The Crane-M provides 360° rotation along the pan, tilt, and roll axes via a large 4-way joystick. It can also be controlled remotely over Bluetooth using the free Zhiyun Assistant app from your mobile device (iOS/Android).
The Crane-M operates on 32-bit triple-MCUs running in parallel at 4 kHz frequency. It also features brushless motors offering high accuracy while maintaining low vibration and increasing torque. Accuracy is ensured with a magnetic encoder in each motor and advanced stabilization algorithms. The Crane-M can achieve up to 0.01° of accuracy within 0.25 millisecond.
Featuring a quick-release plate and thumbscrew at the mounting platform, the Crane-M balances very easily without any tools. All three axes can be adjusted to your preferences in about one minute.
Multiple modes are available to select from. In Lock Mode, all three axes work together to keep the camera pointed in one position. The camera will stay still no matter how you move the handle. In Yaw-Axis Follow Mode, the Crane-M will only follow your pan movements, while in Pitch/Yaw-Axis Follow Mode, it will follow your pan and tilt movements. You can also switch to Inverted Mode at any time by simply flipping the handle over the camera. Inverted mode can be operated in conjunction with the Lock and Follow modes. In addition, the gimbal also has a Camera Control function with which shutter release can conveniently be triggered over a USB cable for select Sony cameras.
A 1/4"-20 mounting thread on the bottom of the gimbal allows mounting on tripods, monopods, and other support gear. Having the Crane-M mounted is also the ideal way of using it when controlling it remotely over the mobile app. The Crane-M runs for approximately 12 hours on included 26500 lithium-ion batteries, which take about 3 hours to fully charge.
Key Features
Smaller version of the original Crane
Designed for small mirrorless cameras, smartphones, and action cameras between 4.4 oz and 1.4 lb
360° rotation along the pan, tilt, and roll axes
Large 4-way joystick
Can be controlled remotely via a free iOS/Android app
Operates on 32-bit triple-MCUs running in parallel at 4 KHz frequency
Brushless motors offering high accuracy while maintaining low vibration and increasing torque
Accuracy is ensured with a magnetic encoder in each motor and advanced stabilization algorithms
Up to 0.01° of accuracy within 0.25 millisecond
Features a quick-release plate and thumbscrew; toolless adjustment of all three axes
Lock Mode, Yaw-Axis Follow Mode, Pitch/Yaw-Axis Follow Mode, Inverted Mode
Shutter release camera control over a USB cable for select Sony cameras
1/4"-20 mounting thread on the bottom
Approximately 12-hour runtime on included batteries
get real warranty on Zhiyun-Tech Crane-M 3-Axis Handheld Gimbal Stabilizer at Digi Tech Trading LLC
It's always easy to shop for Dslr cameras stabilizer at Digi Tech Trading LLC because you can browse by best sellers, brand, price range, customer rating, or special offers. And you can take advantage of free shipping within UAE. Digi Tech Trading LLC Zhiyun-Tech Crane-M 3-Axis Handheld Gimbal Stabilizer - your trusted source of filmmaking equipments
More Information

| | |
| --- | --- |
| upc | 191493000094 |
| Manufacturer | ZHIYUN |
no tech specs
no in the box