Tilta For Sony A6 Serie Cage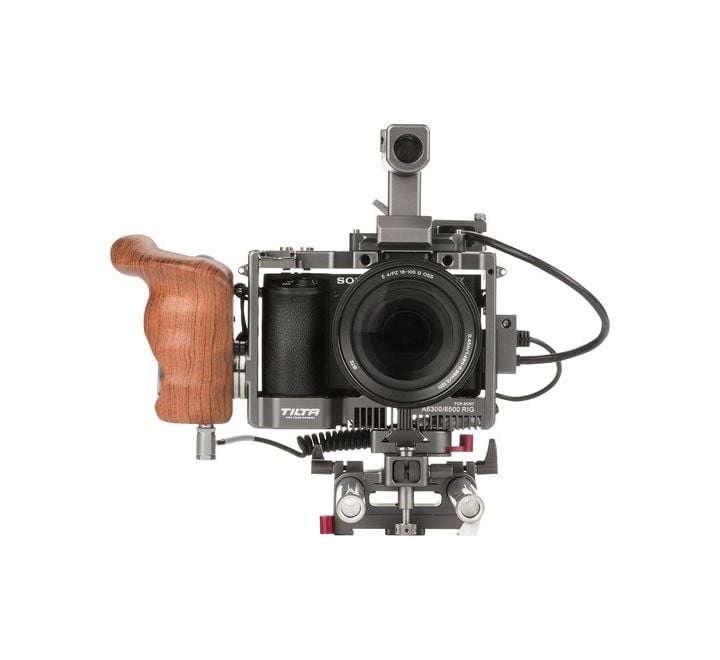 AED 2,046.45
AED 1,949.00
Cage, Baseplate, and Top Handle
Brazilian Rosewood Start/Stop Handle
Ventilation Fan (and Coaxial Power Port)
Buttons for Adjusting Camera Settings
Two Cold Shoe Mounts
HDMI Cable... Read More
The Tilta Cage & Baseplate with Control Handle leaves pretty much no stone unturned in providing an optimal user experience for the compatible cameras.
The Brazilian rosewood control handle attaches to the side of the cage and provides convenient start/stop trigger functionality. A ventilation fan on the bottom of the cage reduces the risk of overheating and allows for longer shooting times. A coaxial port is provided (right below where the camera's LCD would sit) for powering the fan off a 12V power source, such as an optional battery's D-Tap output using a coax to D-Tap converter cable, or the Tilta V-Mount Plate Power Supply (model # BT-003-A), both sold separately.
At the top right of the cage is a cold shoe mount for attaching a mic or various other accessories, and two buttons (C1 and C2) that allow you to easily change camera settings. Access to the camera's battery door is provided on the bottom, as is access to all buttons and ports. The cage also has HDMI cable locks on the top and side, and an included HDMI to micro-HDMI cable that secures into these locks to provide a safe way of connecting a monitor to the camera. The full-sized HDMI connector installs into the top cable lock and allows you to plug in your monitor, and the micro-HDMI connector runs around the side of the cage, inserting into the other lock and connecting to the camera. The locks are removable, as are many other components, although the cage is mainly CNC machined from a single piece of aluminum.
The baseplate attaches to the bottom of the cage via an efficient quick release mechanism, and supports 15mm LWS rods (a pair of threaded 11.8" rods are included). The baseplate also features an integrated lens adapter support compatible with EF to E-Mount and PL to E-Mount Metabones adapters (other ones, including the Metabones Speed Boosters, have slightly different shapes that may not fit). The lens support screws into a threaded hole available on the bottom of these adapters, supporting the weight of the adapter/lens combination. The baseplate also offers three 1/4"-20 tripod mount threaded holes on the bottom, and features a dovetail design compatible with dovetail plates such as the TT-C16 plate from Tilta.
The top handle also attaches on top via a dovetail mechanism and offers a cold shoe, 15mm rod pass-though, and mounting threads. The entire rig provides a starting point for a complete shoulder rig. Simply attach optional handgrips to the rods in front, and a shoulder pad to the rods at the rear.
Key Features
Cage, baseplate, top handle, and rosette handle combination
Ventilation fan (and a coaxial power port)
Brazilian rosewood control handle and cable
Two buttons for adjusting camera settings
Two cold shoe mounts
HDMI cable locks
11.8" 15mm rods
Dovetail plate support and tripod mounts on the bottom of the baseplate
Metabones EF to E-Mount and PL to E-Mount lens adapter support
15mm rod pass-through
Access to the battery door and all ports and buttons
1/4"-20 and 3/8"-16 mounting threads all around
get real warranty on Tilta For Sony A6 Serie Cage at Digi Tech Trading LLC
It's always easy to shop for Camera support & Rigs at Digi Tech Trading LLC because you can browse by best sellers, brand, price range, customer rating, or special offers. And you can take advantage of free shipping within UAE. Digi Tech Trading LLC Tilta For Sony A6 Serie Cage - your trusted source of filmmaking equipments
More Information

| | |
| --- | --- |
| Manufacturer | Tilta |