Shure DMK57-52 Drum Microphone Kit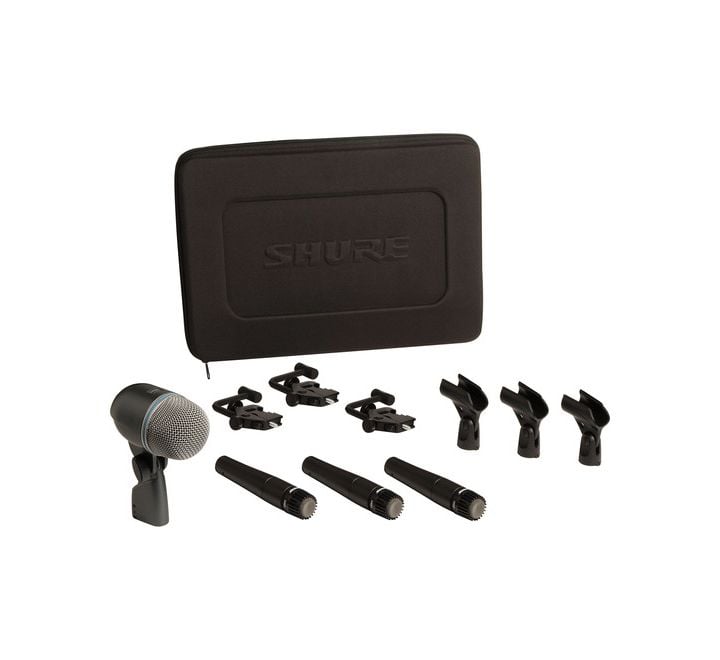 AED 1,866.90
AED 1,778.00
For Live Drum/Percussion Sound
3 x SM57 Dynamic Microphones
Beta 52A Kick Drum Microphone
3 x A56D Drum... Read More
Shure DMK57-52 Overview
The Shure DMK57-52 Drum Microphone Kit is a cost-effective microphone kit designed to offer a core package for recording and live sound applications. The kit includes three Shure SM57 dynamic cardioid microphones, a Beta 52A kick drum microphone and three A56D universal drum mounts.
Shure SM57-LC Dynamic Instrument Microphone
The Shure SM57-LC Microphone is a cardioid dynamic microphone used in many applications including the USA's presidential podium for over 3 decades. It is a suitable choice for musical instrument pickup or for vocals. With its bright, clean sound and carefully contoured presence rise, the SM57-LC is ideal for live sound reinforcement and recording. It has an effective cardioid pickup pattern, which isolates the main sound source while minimizing background noise.

In the studio, the SM57-LC is excellent for recording drums, guitar, and woodwinds. For musical instruments or vocals, the SM57-LC is a consistent choice of professional performers. Its outstanding performance, legendary reliability, and application diversity make this workhorse the choice of performers, producers, and sound engineers all over the world.
Professional workhorse for vocals and instruments in live sound reinforcement
Legendarily bright and clean sound reproduction
Contoured frequency response for clean, instrumental reproduction and rich vocal pickup
Uniform cardioid pickup pattern isolates the main sound source while reducing background noise
Extremely durable design, with a pneumatic shockmount system that cuts down handling noise
Shure A56D - Universal Microphone Drum Mount
The Shure A56D is a universal drum microphone mount. The mount features a durable locking clamp for easy, stable microphone positioning. Any 5/8"-27 size standard microphone clip threads on to the mounting arm.
Shure BETA 52A Kick Drum Microphone
The Shure BETA 52A is a dynamic supercardioid instrument microphone designed for capturing kick drum, acoustic bass, bass amplifiers, and other instruments with similar frequency response and sonic character. The BETA 52A features a contoured frequency response, customized for capturing signal registering at low frequencies. The microphone accurately captures the attacks that contribute to the "punch" of the signal. The supercardioid polar pattern ensures the highest possible gain before feedback while minimizing noise at the off-axis sections of the microphone. A built-in locking stand adapter with an XLR connector simplifies installation when placing the mic inside of a kick drum and its steel mesh grille protects the element from damage.
Tailored Frequency Response
The low-frequency response makes it more than suitable for bass drum, acoustic and electric bass capturing.
Supercardioid Polar Pattern
The supercardioid polar pattern delivers the highest possible signal before feedback while minimizing noise at the off axis sections of the microphone.
Neodymium Magnet
The Neodymium magnet delivers higher gain levels than that of standard element magnets.
get real warranty on Shure DMK57-52 Drum Microphone Kit at Digi Tech Trading LLC
It's always easy to shop for live sound microphones at Digi Tech Trading LLC because you can browse by best sellers, brand, price range, customer rating, or special offers. And you can take advantage of free shipping within UAE. Digi Tech Trading LLC Shure DMK57-52 Drum Microphone Kit - your trusted source of filmmaking equipments
More Information

| | |
| --- | --- |
| Manufacturer | Shure |
Shure SM57-LC Dynamic Instrument Microphone Specs
Microphone
| | |
| --- | --- |
| Form Factor | Stand/Boom Mount |
| Sound Field | Mono |
| Operating Principle | Pressure Operated |
| Capsule | 1 x Dynamic |
| Polar Pattern | Cardioid |
| Orientation | End Address |
| Pad | None |
| High-Pass Filter | None |
| Tone Adjustment | None |
| Indicators | None |
| On-Board Controls | None |
| Windscreen | Foam (Available Separately) |
Performance
| | |
| --- | --- |
| Frequency Range | 40 Hz to 15 kHz |
| Impedance | 150 Ohms |
| Load Impedance | 310 Ohms |
| Sensitivity | 56 dBV/Pa (Open Circuit Voltage, 1 kHz) |
Connectivity
| | |
| --- | --- |
| Output Connectors (Analog) | 1 x XLR 3-Pin (on Mic) |
Physical
| | |
| --- | --- |
| Color | Gray |
| Mounting | 5/8"-27 Female, Mic Clip (Included) |
| Construction Material | Steel, Steel Wire Grille |
| Dimensions | ø: 1.26 x L: 6.18" / ø: 32 x L: 157 mm |
| Weight | 10.02 oz / 284 g |
Packaging Info
| | |
| --- | --- |
| Package Weight | 1.32 lb |
| Box Dimensions (LxWxH) | 10.1 x 4.95 x 3.45" |
Shure A56D - Universal Microphone Drum Mount Specs
Packaging Info
| | |
| --- | --- |
| Package Weight | 0.85 lb |
| Box Dimensions (LxWxH) | 10.2 x 4.8 x 3.4" |
Shure BETA 52A Kick Drum Microphone Specs
Microphone
| | |
| --- | --- |
| Form Factor | Stand/Boom Mount |
| Sound Field | Mono |
| Capsule | Dynamic |
| Polar Pattern | Supercardioid |
| Orientation | End Address |
| High-Pass Filter | None |
| Tone Adjustment | None |
| Indicators | None |
| On-Board Controls | None |
| Windscreen | None |
Performance
| | |
| --- | --- |
| Frequency Range | 20 Hz to 10 kHz |
| Maximum SPL | 174 dB SPL |
| Impedance | 150 Ohms |
| Sensitivity | -64 dBV/Pa |
Connectivity
| | |
| --- | --- |
| Output Connectors (Analog) | 1 x XLR 3-Pin (on Mic) |
Physical
| | |
| --- | --- |
| Mounting | 5/8"-27 Female (via Integrated Hardware) |
| Construction Material | Metal, Steel Wire Grille |
| Dimensions | ø: 3.75 x H: 6.41L: 4.45" / ø: 95.25 x H: 162.81L: 113.03 mm |
| Weight | 21.6 oz / 605 g |
Packaging Info
| | |
| --- | --- |
| Package Weight | 2.22 lb |
| Box Dimensions (LxWxH) | 10.15 x 5.5 x 3.8" |
3 x Shure SM57-LC Dynamic Instrument Microphone

Shure A25DM Mic Stand Adapter
Padded Bag
Limited 2-Year Warranty

3 x Shure A56D - Universal Microphone Drum Mount
Shure BETA 52A Kick Drum Microphone

5/8" to 3/8" (Euro) Thread Adapter
Storage Bag
Limited 2-Year Warranty

Carrying Case
Limited 2- Year Warranty