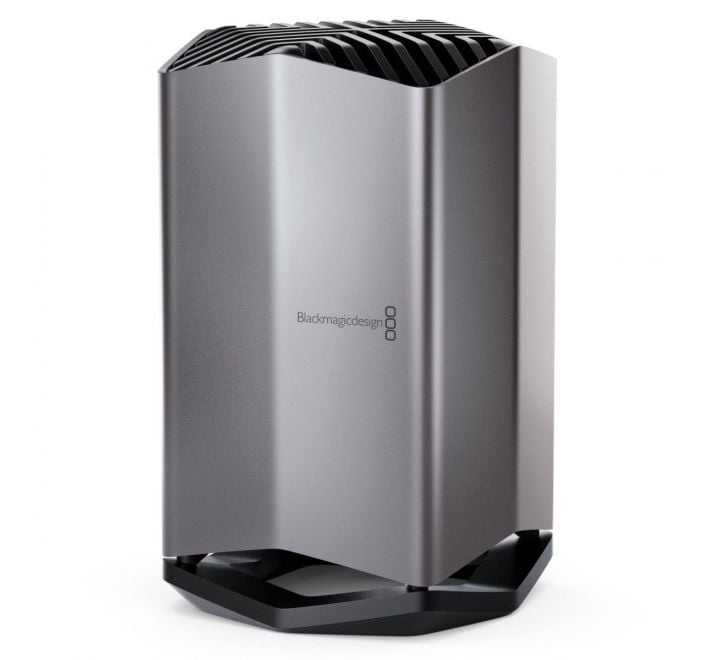 AED 39,900.00
AED 38,000.00
Pre-Order to secure your piece
20TB NVMe M.2 Flash Storage
Configured as RAID 5
4 x 10Gb Ethernet Ports and Switch
2 x Gigabit Ethernet Ports
2 x USB Type-C Ports for Ingest & Backup
USB Type-C Ports Also Support Ethernet
HDMI Monitoring Output for Status
Dropbox Sync Support
Software Utility for Windows and Mac
The Blackmagic Design Cloud Store 20TB is a high-capacity network drive designed to handle massive media files commonly utilized in Hollywood feature films. Because of the sophisticated flash memory used in the design, it can easily accommodate multiple users at the same time. It's also quite simple to set up! Files can be disseminated globally using Dropbox live sync for extremely quick local file access, even over low-cost internet connections. Unlike SAN systems, there are no IT experts required, and there are no monthly fees. There's even an HDMI display output with storage status in real-time. All of this means you'll receive a lot more features than you would with affordable storage goods from office supply retailers.
Cloud Store Features
Elegant design with whisper-quiet cooling.
Features 20 TB Capacity
Extremely high-performance RAID 5 flash memory.
Sync to Dropbox.
Includes HDMI monitoring output with live storage status.
Includes four 10G Ethernet ports with a built-in switch.
Supports Ethernet over USB-C connection to computers.
USB-C ports allow local ingest and backup of files.
No subscriptions, no licenses, and no user data tracking.
Includes software utility for Mac and Windows platforms.
Designed for Film and Television
The Blackmagic Cloud Store network storage solution is ideal for any application! However, it's ideal for cinema and television, where massive media files must be shared among several users for editing, color correction, audio post, and visual effects. It can even work with 12K Blackmagic RAW digital cinema files! There is no latency for each user, and they do not need to keep anything on their own computer. It's the ideal complement to DaVinci Resolve! Dropbox sync allows you to synchronize several disks in different places all over the world. After that, each place receives the most efficient editing experience possible. This is crucial for Multicam editing, as numerous media files are being played at the same time.
Portable and Quiet Design
The Blackmagic Cloud Store has an attractive vertical design that is portable, unlike IT sector storage systems that are rack-mounted and have loud cooling fans. It's also whisper-quiet, allowing it to be utilized on set. Internally, it has a parallel array of flash memory cards for speed and data security. There are even two power supply that are redundant! The four 10G Ethernet ports can be used as a switch to connect four different computers, or they can be used in tandem to provide a gigantic 40G Ethernet speed utilizing "link aggregation." A HDMI monitoring output allows you to observe a live graphic view of the storage system on a TV or monitor. It's even possible to maintain and fix it.
USB‑C Ingest
The USB-C ingest port will automatically load from any disk plugged in. It's fully automatic and you simply plug in a USB media dock or a USB disk. Ethernet over USB is also supported on this port.
USB‑C Backup
This USB-C port will automatically backup cloud store files to any USB disk plugged into the port. It's a low-cost way to protect your critical files! Ethernet over USB is also supported on this port.
HDMI Monitor Output
The HDMI monitor output lets you see the status of your cloud store in real-time. Simply plug in a TV or monitor. You can see a storage map, speed graphs, sync, active users, and power status
get real warranty on Blackmagic Design 20TB Cloud Store at Digi Tech Trading LLC
It's always easy to shop for Default Category at Digi Tech Trading LLC because you can browse by best sellers, brand, price range, customer rating, or special offers. And you can take advantage of free shipping within UAE. Digi Tech Trading LLC Blackmagic Design 20TB Cloud Store - your trusted source of filmmaking equipments
More Information

| | |
| --- | --- |
| Manufacturer | Blackmagic Design |
Interface
Video Outputs
1 x HDMI Monitor
USB Ports
1 x Backup USB-C Port
1 x Ingest USB-C Port
Ethernet Ports
4 x 10G 100/1000/10G BASE-T
2 x 1G 100/1000 BASE-T
Computer Interface
Ethernet for shared file access, configuration and software updates. USB-C for configuration and software updates.
File Sharing Protocol
Protocol
SMB
Computer Connections
50 max
Compatible Services
Dropbox
Storage
Storage Type
M.2 NVMe SSD
Storage Capacity
20TB
Redundancy
RAID 5 distributed parity
External Storage
USB Disks
External Storage Format
ExFAT (Windows/Mac) or HFS+ (Mac) file systems.
Displays
HDMI Monitor Out Standards
1080p50, 1080p59.94, 1080p60
Monitor Out Displays
Device Name, storage capacity and use, Cloud Sync status, User Activity, Hardware Status, storage map, network data rate graphs.
Status Indicator
Underside white glow indicating normal operation or red glow indicating disk or power supply fault.
External Control
USB-C or Ethernet for configuration and software updates.
Software
Blackmagic Cloud Setup Utility
Blackmagic Proxy Generator Lite
Internal software upgrade via Blackmagic Cloud Setup using USB-C port.
Operating Systems
Mac 11.1 Big Sur,
Mac 12.0 Monterey or later.
Windows 10 and 11.
Power Requirements
Power Supply
2 x internal 100 - 240V AC 50/60Hz.
Power Inputs
1 x IEC C14 mains input.
Power Usage
400W max.
Physical
Environment
Operating Temperature: 0° to 40° C (32°to 104° F)
Storage Temperature: -20° to 60° C (-4° to 140° F)
Relative Humidity: 0% to 90% non-condensing
Dimensions (WxDxH)
7.0 x 7.0 x 11.6"
Weight
13.2 lb
Blackmagic Design Cloud Store 20TB
Limited 1-year warranty